New York is one of my favourite cities. I visited 16 years ago while travelling to a family wedding in New Jersey. The yellow cabs, towering skyscrapers and neon lights of times square make you feel like your on a movie set. Like most major cities it can be expensive, we've got tips on Visiting New York On A Budget.
Visiting New York On A Budget
There are plenty of sights you can visit for free such as Times Square, the New York public library, grand central station, St Patrick's Cathedral and the parks. Amongst the Giant Central Park, there also Brooklyn bridge park, the high line on an elevated old railway track. The new York parks hold a number of free and low-cost events throughout the year such as films, concerts and exhibitions. There are also free guided walking tours at the high line about history and design which are great when visiting New York on a budget.
Free Tours by Foot is neither way to see New York's Attractions by foot and cycling. They offer tours in a number of neighbourhoods alongside themed tours such as The Greenwich village food store, a street art tour and even a Broadway ghost tour. All tours are free but you can tip your tour guide as you wish. Every Friday at 12:30 Grand Central Partnership runs a 90-minute free walking tour around grand central station. If you would prefer to have your own private guide you can be matched with a local volunteer through the big apple greeter scheme who will show you their highlights of New York.
Saving Money on Museums and Culture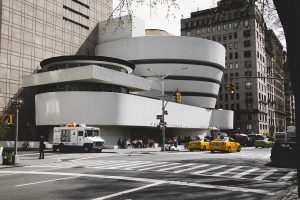 Visiting the big museums in New York can range from $20-$25 per person, but you can save. Some of the have certain entry times where you can donate as you wish. Guggenheim between 5 pm-7.45 pm on Saturdays, 2 pm-6 pm on Wednesdays. The 9/11 Memorial Museum is free after 5 pm on Tuesdays, the museum of modern art and the museum of moving images are both free from 4 pm-8 pm on Fridays.
To experience Broadway on a budget, you can pick up discounted theatre tickets at the TKTS booths which see same-day tickets for 50% off. You can also check out free performances by students at the Julliard performing arts school.
Top City Views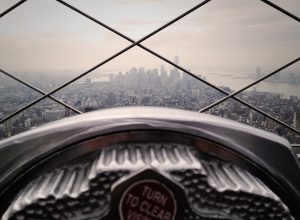 The Most Iconic viewpoint is from the Observation deck of The Empire State Building, but it is pricey at $54 to go to the 102 floors. The Rockefeller Center is not as tall as the Empire state building but is more reasonably priced ad $36.
Many of the cities Rooftop bars are located at the top of fancy hotels and require you to be a resident in the hotel. Located in Fifth Avenue 230 Fifth hosts a roof terrace bar open to the public. Overlooks the Empire State building its the cities largest rooftop patio with heaters and blankets for the winter months.
On the ground, you can experience spectacular views across the water to lower Manhattan from Brooklyn Bridge. If you fancy getting up and close to the statue of liberty you can take a free boat trip across the harbour on the Staten Island Ferry. The service shuttles to Staten Island from Manhattan 24hours a day taking as little as 25 minutes travel time each way.
Budget Food and Drink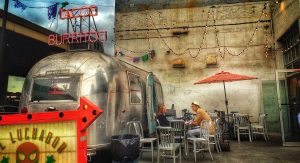 When looking for food on a budget in New York you can save by getting food on the go consisting of bagels, pretzels, pizza slices and deli sandwiches. To experience food from around the world the food truck is the place to go, they do tend to move around however the food truck scene is so big in New York your sure to find a cuisine you'll enjoy.
There are many food markets running in the city all throughout the year. You can find many food stalls at the food markets the largest of which is Smorgasburg in Brooklyn with over 100 stalls. The food market takes place between April to October from 11 am-6 pm at the East Riverside park in Williamsburg on Saturdays and on Sundays in Prospect Park. There's the Hester street fair in the Lower Eastside which is also on Saturdays from 11 am-6 pm.
The Brooklyn Brewery runs free tours every half hour from 1 pm-6 pm every Saturday and Sunday. This is great if you a beer lover. You can bring your own food or have take out delivered to the brewery, this can all be washed down with a draft beer costing as little as $6. Monday to Friday they run small group tours lasting 45minuites at 5 pm, 5:30 pm, 6 pm and 6:30 pm. The tour costs $18 including 4 beers and a souvenir glass make sure you book in advance.
Low-Cost Transport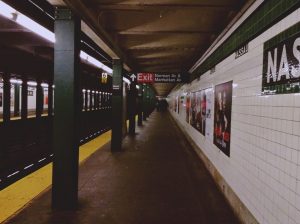 It's great to walk in New York, however, the city is big so the best way to travel is via the subway. The Subway runs 24hrs away 7 days a week and will cost you $2.75 for a single journey or for a 7 day pass $32 giving you unlimited subway and bus journeys. Your travel card can also be used on the Roosevelt Island Tram a cable car that gives you amazing views across East Manhattan. The tram leaves from 59th street and second avenue.
A more adventures way to see the city would be by Citi bike. Bikes are available to borrow from over 750 docking stations around the city. it can cost $12 to hire for 24 hours o $24 will give you a 3-day pass to use as an when you need. If you need to travel short distances you can make as many 30 minute journeys as you need.
Thinking of visiting New York On A Budget?
Has this post convinced you to visit New York? Know someone travelling to New York? why not show them our blog on visiting New York on a Budget. Why not check out some of our other blogs like Top 10 Trending Destinations 2019 click here.