Thinking of going travelling? it's essential you travel with the items you really need. I remember backpacking trip to the Amazon Rain Forest I travelled with a 65L backpack with at least 20L of items  I had no need for such as a pack of 30 hair ties or gloves I have no idea why I packed them in such a hot forest silly me! Not only was it heavy it was very difficult to find anything inside. If your thinking of travelling to the Amazon you can check out the jungle checklist here.
When your packing for your next adventure you'll want to limit yourself to the best and most essential travel items on the market.
Firstly let's look at some useful items you should be packing for your trip from choosing the right backpack or suitcase to the best electronics to take.
Travel Backpacks, Suitcases and Packing Supplements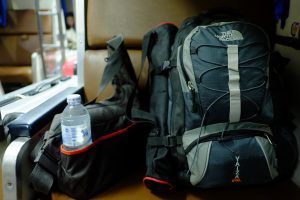 I've travelled twice with the same backpack, and even though the second time I packed wisely it was still heavy and bulky. It all depends on the type or purpose of your trip when choosing between a backpack or a suitcase.
Whether I go on a short break for a week or on a cruise I find a suite case a lot more convenient. This is due to being away for a short period of time and needing less or even being able to unpack and wanting a small bumbag or handbag when sightseeing. Suitcases are easy to carry to the airport and keep all your clothes nice and tidy (when tracking or hiking this is not such a priority).
Travelling for long periods of time can be a lot easier with a backpack. You can fit a lot more in a backpack as they are a lot deeper. Furthermore, they are a lot more favourable when walking around countries such as Asia and Africa. When you're Travelling across continents you may find yourself moving around from place to place travelling by different modes of transports which are a lot easier to travel on with a backpack like a motorbike!
If your thinking of tacking a backpack they as a carry on option on most airlines. If your travelling on many domestic flights during your travels you may find there will be a charge for checked luggage. European Airlines will allow 10kg carry on allowance and Asian airlines 7kg. To find the luggage allowance for your airline click here.  This will definitely stop you from over packing and in my opinion why pay for checked luggage when it's not necessary.
Leading recommendations for Backpacks
It's good to ensure you look out for a waterproof backpack especially for that wet and windy day!
When travelling it's essential you make sure your personal items are safe. Make sure your backpack has a lot of secret pockets.
Our recommendation for a backpack size is 33L. Its ideal to carry onboard and even when full will not weigh more than the 10L allowance on many airlines – check before travelling here.
Leading recommendations for suitcases
It's great to make sure you have a shock-resistant case for those bumpy rides in Asia yes that's right the buses!
As well as a suitcase also its great to take a carry on option. This will be great to use out and about as well.
Make sure you bring along a padlock to keep your valuables secure. This is especially important if you're going out and leaving your suitcase behind at a hostel or even a hotel.
What to Bring When Traveling
Let's take a look at all the essential items we believe will make your travel experience more enjoyable and comfortable.
Essential Travel Items for the Plane
Travelling for long periods of time can get boring and uncomfortable. This is especially when your travelling on a budget airline or low-cost airline with minimal legroom. We've come up with a list of essential items we think will make your journey more comfortable and enjoyable.
Ear Plugs- If you're looking to have a nap on the plane or even staying in a hostel. Snorers can be quite a burden this will give you that good night sleep you deserve.
Headphones- I don't know about yourself but I cannot live without headphones anywhere. If  I have the opportunity to listen to music I will. Some airlines may provide you with headphone but nowadays many of them charge. For long haul flights, you may need headphones to watch movies so be sure to pack a couple in case you lose or break them.
Travel pillow- Travel pillows are a great accessory especially if you're prone to neck strain. There are many different types of travel pillows available my favourite is the memory foam pillow. This can be used in many different ways for your neck side and back. To find your perfect travel pillow click here.
kindle or tablet- It's great to bring your own entertainment you'll have all your games and movies to watch especially if the airline your travelling on does not have entertainment or anything you like. It also gives you the option to read!
Eye mask- I think this is the best item for me to travel with especially because I hate the brightness of lights. It's great to have one, especially for the plane as lights can be so close.
Travel Beauty & Personal Care Essentials
There are many items that you may need before you manage to find a pharmacy or when in between destinations. If you need more there will be pharmacies abroad so don't think you need to pack everything.
Mosquito repellent- Don't you just hate being bitten by these silent suckers me too. This is by far my favourite thing to pack and it important you have this at hand.
Makeup- It doesn't mean just because you're going backpacking you can't look your best but be sure to pack what you need. I travel with mascara, lipstick and a black pen.
Sunscreen- Don't forget to check the weather in the destination your travelling to and if it's hot be sure to keep your skin safe before you arrive.
Period panties or Diva Cups- It's a lot easier to travel with these items as they can ve less bulky then period pads and tampons. They are also eco-friendly. To find the best period panties click here. Considering using a Diva cup click here to find the perfect one for you.
Wet wipes- These are always useful especially for camping trips or even those small spills. ( ever dropped icecream on your favourite shirt with no tissue these will save you!).
Essential Travel Items For Backpacking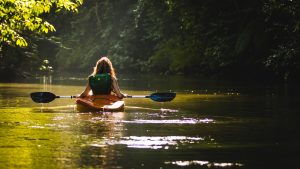 Thinking of backpacking? this will be the most important section for you to read. We have everything you need for your next big adventure.
Reusable water bottle- Its good to have a reusable water bottle. It can not only be eco-friendly but also many hostels will offer free water refills saving you money.
Waterproof case- These are great if your thinking of going on a kayaking or snorkelling trip or just near water as they will keep your smartphone super safe.
Dry bag- Dry bags are a great way to keep your valuable safe. Especially near water or even to take on a day trip in case of rain.
Fanny Pack- This is another way for you to keep your valuables safe, they are great for when you go to crowded areas as you can keep your valuables close to you.
Head Torch- This may not always be needed but you never know when you might find yourself on a camping trip.
Quick Dry Towel- when your travelling from place to place it can be difficult to wait for your towel to dry or even if you've been out in the water the worst thing is to put a damp towel in your backpack making it smell for days.
Padlock- Many hostels offer lockers where you can keep your valuables such as passports and visa.
First Aid Kit- These can be super helpful especially if your away from a pharmacy.
Essential Travel Electronics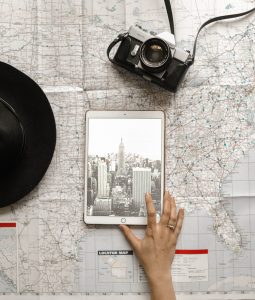 Travel electronics are my favourite items to take aborad. As a travel blogger and photography enthusiast, it's essential for me to be equipped with the best travel electronics. When travelling its important you keep your valuables safe and make sure they are always working. You wouldn't want to miss out your favourite shots because your camera is not charged.
Tablet- I love taking my tablet with me when I travel. Not only can I watch movies and use it for entertainment purposes but I can also use it to take notes to write my next posts.
Portable Charger- Sometimes your battery isn't always on your side. It can be frustrating when it dies unexpectedly always keep a portable charger with you for these times.
Travel adaptor or Univeral Charger – If you're moving around a lot it's useful to have a travel adaptor a Universal Charger.
DSLR Camera – If your looking to take quality pictures this camera will be your best friend check out the different types by clicking here.
Go Pro- Go Pro is a great camera to take with you when travelling as its one of the smallest cameras. You can travel with that won't take up a lot of space in your backpack. I have the Go Pro 7. This version of the Go-pro. This version comes with a lot of cool accessories such as the tripod, selfie stick and the Spivo a selfie stick that has a spinning mount. You may also find the headgear useful if your thinking of climbing a mountain.  If I'm on an adventurous day I tend to use my go pro. However, for many of my other photos, the DSLR is much greater in quality. To find a suitable go pro for you click here.
Mobile phone- Many of us already own a mobile. However, it's essential you travel with an unlocked phone as it will be cheaper to purchase a local sim card.
portable wifi- As many areas of the world may not have wifi hotspots. Skyroam's portable devices will give you a helping hand. Check them out here.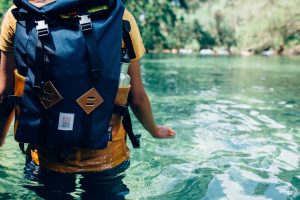 Still looking for the perfect destination to travel to why not check out our Top 10 Trending Destinations here.