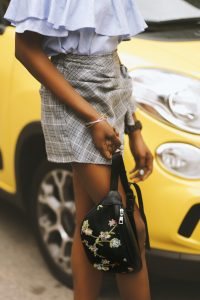 Fanny packs are smalls pouches you carry around your waist. These pouches have become increasingly popular accessories for travellers who are camping, hiking or just travelling. Fanny packs have become more than just a 'dad joke' they have become a secure place to keep your id wallets, passports and other valuables in a secure place when travelling.
There are many different types of fanny bags on the market and it can get a bit confusing when trying to choose one. In this article, we will be looking at two types of fanny bags such as concealed carry fanny packs and waist purse belt which in my opinion are the best fanny packs for travelling. Let get you that bit closer to your favourite fanny!
Need tips on packing check out our post on Essential Travel Items here. 
Requirements
For The Best Fanny Packs For Travelling
There are many things I look for when shopping for my next big adventure. The most important to be is quality and durability this applies to fanny packs too. When travelling its important you have items that are less likely to break as it can be difficult to get replacements. It's also very important it fits around your waist without causing you discomfort as you may be travelling or hiking for long periods of time. Let's take a look at some of the things to consider when shopping for your next or first fanny pack.
Material
As mentioned above quality and durability is are a very important aspect when shopping for a fanny pack. The material is what will determine the durability and quality of your pack. It's also very important to make sure your Fanny pack is water-resistant or waterproof for those rainy days or paddles in the lake. Many materials such as polyester, nylon, and neoprene fabric are the most durable. These materials are also water-resistant and will keep your belonging safe and dry.
Cost
Many of us think the higher-priced items are always the best in quality and durability, this is not always the case. When it comes to Fanny packs or any travel items such as boots or backpacks its best to read reviews as many customers have hands-on experience which really does help. Fanny packs can range from $10 to $60.
Weight and dimension
You may find yourself going for the best looking or most stylish looking fanny pack. If it does not fit around your waist or is not suitable for your build it's going to insure a lot of discomforts. The weight and dimension are key as it determines how the fanny pack fits around your waist.
Best Fanny Packs For Travelling
In this article, we will be giving you a rough idea of the different types of fanny packs available for your consideration. Many people have different needs and preferences and there are many different Fanny packs available on the market. My favourite types of fanny packs are the concealed carry fanny pack and the waist purse belt. We will be showing you different versions of these fanny packs available below.
Concealed Carry Fanny Pack
When travelling aboard whether it's internationally or domestically there are always thieves looking for people to prey on. Tourist tends to be the most targeted individuals when it comes to thieves. Concealed Fanny packs are made to keep your personal belongings hidden from thieves. Concealed fanny packs are lightweight and slim making them readily available to be hidden below your shirt out of sight. These Fanny packs may be slim and lightweight but they can hold id cards visas and even small mobile phones.
We've come up with the best-reviewed concealed Fanny packs on Amazon and we would like to share them with you below.
Daitet Money Bag
These Money bags are great for the modern traveller as it has it's own smartphone pocket and can be adjusted at the waist with its adjustable belt. Diet Fanny packs are made from non-stop nylon and a blocking material called RFID making it durable and waterproof.
Best for – Affordability
Weight: 3.04 oz (86.1 grams)

Dimension: 28.4 x 13.97 x 0.02 cm (11.2 x 5.5 x 0.1 in)

Colours available: 2

Material: Blocking RFID, rip-stop nylon

Unisex: Yes
Orion Travel Belt
This Fanny pack is made from neoprene fabric which is water-resistant and will be great to help protect your valuables from hot and cold weather. Furthermore, this fanny pack enables you to listen to music hands-free with its earphone/ headphone port. In addition, the main pocket is customized into small compartments enabling you to organise your keys, id cards and mobile phones stopping them from getting muddled.
Best for – Size Smallest

Weight: 4.8 oz (137.8 grams)

Dimension: 16.5 x 10.16 x 2.5 cm (6.5 x 4 x 1 in)

Colours available: 1

Material: Neoprene fabric

Unisex: Yes
Govivo Fanny Pack
The Govivo Fanny pack is very durable and uses a water-resistant material. Furthermore, Govivo uses YKK zippers which come with a satisfaction guarantee. If the zippers happen to break or fail you will get your money back. Like most other fanny packs this one comes with multiple pockets enabling you to organise your personal belongings. The waistband is made from a lightweight material which is also elastic making it very comfortable. The only downside to the fanny pack is that it can be quite bulky.
 Best for – Most Durability

Weight: 3.5 oz (90.7 grams)

Dimension: 21.3 x 11.17 x 3.3 cm (8.4 x 4.4 x 1.3 in)

Colours available: 1

Material: Polyester

Unisex: Yes
Waist Purse Belt
Waist purse belts can hold a lot more then a concealed carry fanny pack however it does tend to be a lot bulkier. Many of these packs can make hiking or camping trips a lot easier as they can store a lot of valuable and some of them even have water bottle holders.
We've come up with the best-reviewed waist purse belts on Amazon and we would like to share them with you below.
Everest Signature Waist Pack
Everest has been making fanny packs for the past 30 years which can give you the confidence these packs will be durable and of good quality. The Everest signature waist pack is both for fashion and convenience. The pack has 3 compartments enabling you to organize small items, it also comes in a number of colours allowing you to match it with your personality.

Best for – Most Colour Options 
Weight: 8 oz (226 grams)

Dimension: 29.21 x 7.6 x 11.43 x 3.3 cm (11.5 x 3 x 4.5 in)

Colours available: 25

Material: Polyester

Unisex: Yes
Freetoo Waist Pack
The Freedom waist pack is fully adjustable allowing its owner to wear it in many different ways. You can wear the Freetoo waist pack around your hips, over your shoulder and even under your arms. Furthermore, this waist pack is made of scratch and water-resistant material making alongside its 5 quality zippers  this waist pack is made for hiking and camping
 Best for- The most amount of Pockets

Weight: 6.4 oz (181 grams)

Dimension: 33.02 x 8.9 x 14 cm (13 x 3.5 x 5.5 in)

Colours available: 2

Material: Polyester

Unisex: Yes
Waterfly Hiking Waist Bag
The main thing that set this waist bag apart from the others is its water bottle holder. Another key feature is that the waist bag has a reflective strap making you visible at night should you go camping or hiking after hours. The waist bag is made from water-resistant material keeping your belongings safe from the rain. as well as the multiple pockets the bag has to keep your belongings safe.
Best for- The best features
Weight: 6.06 oz (172 grams)

Dimension: 25 x 7.6 x 17 cm (9.8 x 3 x 6.7 in)

Colors available: 11

Material: Nylon

Unisex: Yes
 Best Fanny Packs For Travelling Conclusion
These are a few of the best fanny packs we have come across based on Amazon reviews. This packs, in my opinion, are the best ones for my needs and preferences as they are all water-resistant and durable which is what I look for in a Fanny pack.
The Concealed Carry fanny pack that is my favourite is the Orion travel belt as mentioned above any excuse to listen to music and I love the fact I can do this handsfree.
My favourite Purse belt would have to be the Water fly hiking waist bag this would have to be for the water bottle holder feature. I always get thirsty (just writing this blog has made me thirsty) so this is a great feature for me.
These are two of my best fanny packs for travelling but everyone will have their own thoughts and preferences. When looking for a Fanny pack its best you think of your main needs and preferences as well as comfort.