When talking about surfing there are many destinations that spring to mind. These destinations are Hawaii, California, Australia, France, and South Africa. However, nowadays Asia has become the most upcoming destination for surfing and we're going to show you the best surfing spots in Asian in this article. Wherever in the world your travelling from Asia an easy destination to travel to with flights travelling from all around the world.
In this Vibrant Continent, you'll come across fresh Asian cuisine. This part of the world is very affordable and furthermore, every city boasts a difference in culture. You may be an expert Surfer or just like a beginner wanting to try out or learn the ropes. This article about the Best surfing spots in Asia is a great place for you to start.
As a beginner myself, I was looking for the best spots to try out this magnificent sport. Having come across articles about the more common destinations I decided to write my own. In the best surfing spots in Asia article, we will also be looking at the cost, surfing level, and general tips about travelling t the destination.
Things to think about when deciding where to surf in Asia
So you've decided to go surfing on your next holiday? There are many things to think about when looking for the best spots in Asia to surf. firstly we will be looking at the key things to think about before booking flights and to avoid that disappointment.
Surfing Ability
When it comes to choosing a destination based on your surfing ability you need to ask yourself how good you are when it comes to surfing? If you're a beginner it's best you look for a place where there are smaller waves and sandy sea bottoms. Furthermore, you may also want to look into places where you can hire an instructor/ teacher or even a place with a surfing school.
Safety
This section may be found more useful for beginners. When it comes to Safety there are many questions you may have. Myself as a beginner there were many questions I asked myself and looked into before travelling. However, the main questions I had were:
What's it like at the bottom of the Sea? this may sound like an odd question. Many areas can coral reefs or rocks under the water. As a beginner, if the key to knowing if you'll hit these when falling off your board.
Will the Waves be too hard or too Strong? This again can be a key issue for beginners as hard waves can be harsh against your body.
Will I need Travel insurance that covers these sorts of accidents? or is there good medical assistance available?
Affordability
For many surfers whether your a beginner or expert affordability of a destination can be a concern for many. The water is free but for many surfers who are not travelling with a surfboard, it may be handy to look into the cost of renting aboard.
In Asia, depending on the location the prices can vary. The Cost to rent a Surfboard only can cost anywhere between $5-$20 USD. If your thinking of hiring an instructor it can cost anywhere between $7-$30USD. It's always good to check if the prices are per hour or per session.
Location
The location of the surfing spot can be a key element of your holiday. If your travelling for a week it would be a bit hectic to be travelling on a bus or train for 2-3 days of your holiday. It's good to make sure you have an idea of how to get to the location or stay close by to avoid extra travel time beforehand.
Another important thing to bear in mind is where the location is a touristy destination.  This, on one hand, could be an advantage and on the other hand, could be a disadvantage.
Many First time travellers to Asia may find it a lot safer to have tourist within the local area. However, for the first time or beginner surfers, this could be a whole different ball game. This is due to the crowded beaches as it will be very difficult to learn and trick while being watched by others. Myself as a beginner would hate to be watched by many tourists.
On the other hand for expert surfer's it can be a great disadvantage. Crowded areas could mean a lot of expert surfers are trying to catch the same waves as yourselves. Furthermore, it can be frustrating having to watch out for not to hit anyone with your board.
Best Time To Travel
Before travelling the most important thing to consider is the best time to travel. Many destinations have 'surfing season' yes that's a real thing not just in films. Some destinations get Typhoon season. At this point, surfing at the beach is forbidden for many safety reasons. Furthermore, there are also beaches that are prone to Jellyfish at certain times of the year. You should really avoid going at these times.
Best Surfing Spots In Asia
Now that we've been through the important aspects of surfing, let's start looking at the best surfing spots in Asia. Many travellers and surfers have different needs and preferences. This article will give you an insight into the most popular surfing spots in Asia.
This article will be a guide into destinations which are up and coming for the surfing industry. Before you travel we recommend you research these destinations in more depth to make sure they really do meet your needs. With further of do let's show you the best surfing spots in Asia
Baler, Aurora, Philippines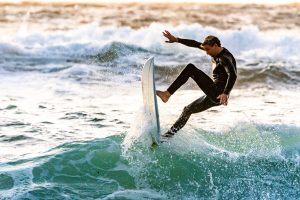 Baler is a small quiet surfing town in the Philippines. It's also known as the surfing capital of Luzon and is located six hours away from Manila. This is a great surfing spot for beginners to intermediate surfers. There are fewer tourists making it easier to enjoy the waves. The tourist population in Baler is made up of 95% locals, this makes it one of the cheapest places to visit with the Philippines.
Due to the fact this popular surfing town is 6 hours away by bus or car its proven less popular with foreign travellers. This is undoubtedly one of the best places to Surf with a guide and learns to catch the waves in no time making the distance a real shame for many tourists. The only downfall is that the beach is openly on the pacific ocean making it less warm than other parts of the Phillippines.
Recommended for: Beginners to Intermediate
Best time to surf: The Middle of October to end of April ( June to October can be off-season)
Average wave height: 2-4 feet (6-1.2 m)
Cost: $5-$6USD per hour for the board or  $7-$8USD per hour for a board with an instructor/ teacher
Pros: Affordable area known for it's surfing. The area is less crowed as not very touristy
Cons: the crowd can be too much during April-May. A six-hour bus or car ride from the airport
Best place/Area to stay: Sabang (right on the beach) or Poblacion (the main town a 15-minute walk or 5-minutes tricycle ride) – The Circle Hostel and Go Surfari Hostel are the two most popular hotels in the area.
Lagundri Bay, Nias, Indonesia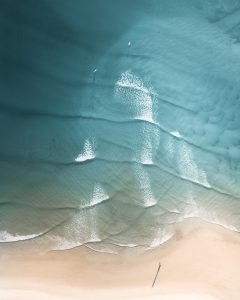 Lagundri Bay Gathers hundreds of surfers from around the world each year. The local area holds multiple competitions on the waves all year round. The bay is located on the island of Nias in Indonesia. This is a picturesque island near Sumatra. This little bay is a perfect hideout from all the touristy places of Indonesia.
In comparison to other islands of Indonesia such as Bali and Java, Lagundri Bay is relatively hard to travel to. Furthermore, this means in high season you will only find 20-30 surfers on the waves.
Recommended for: All abilities are welcome however it does depend on the wave size, they can be as high as 10 feet. Recommended  4 to 5 feet for beginners.
Best time to surf: May to September
Average wave height: 6 feet for most of the year (about 2 m)
Cost: To rent a board + teacher/instructor it's can be very cheap. On the other hand, the surfboards are not that great and have a lot of dents. I prefer to bring your own. Surf lesson range between  $20-$30 USD per hour and you can rent a board for $10-$20 USD per day.
Pros: Surfing lessons and Board can be cheap to rent.
Cons: Many travellers don't like to hear that the island isn't very touristy, never the less its a great spot to surf. The sea bottom is a reef so be aware of falling too hard as it can hurt.
Best place/Area to stay: There are many surf camps and hotels located along the same beach. A well-known camp would be Nias Keyhole Surf Camp, this camp enables you to hang out with other surfers as well as the ability to get recommendations about surfing from the knowledgeable staff.
Jialeshui Beach, Taiwan
who knew it was possible to surf in Taiwan. Well, it is and we're here to tell you where and how. Bali Taiwan is normally the tourist hotspot and can be avoided by surfers due to the crowded areas. Many describe this area as the 'Hawai' of the east coast due to the typhoon season.
Furthermore, You can find the best waves to surf on right here. The picturesque background of the lush green mountain backdrop is just amazing. There are many itineraries you can go on to get yourself to Jialeshui Beach which is located in Kenting in Manzhou.
Recommended for: Intermediate to expert level
Best time to surf: Between June to August
Average wave height: 3-5 ft depending on the wind conditions(1-1.5 m)
Cost: $10-$17USD per day for board Hire and $50USD  for surfing lessons with an instructor/teacher
Pros: Many travel itineraries will include this beach as a stop-off.
Cons: Due to the Jellyfish and rocky sea bottoms it's not a great place for swimmers
Best place/Area to stay: The Winson House is a great place to stay during your visit.
Blue Beach, Sri Lanka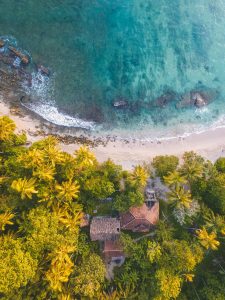 Blue Beach is located in the south of Sri-Lanka near to Nilwella and Dikwella. This small town has a wonderful, long, white sand beach surrounded by thick foresty palm trees between Tangalle and  Mirissa. This area of Sri Lanka is like no other with in the country. Furthermore, this beautiful fishing village does not have a huge amount of touristic visitors.
Recommended for: beginners to Intermediate Level
Best time to surf: Between October to April
Average wave height: 3-4 ft (1-1.2m)
Cost: You can rent a surfboard from kiosks right on the beachfront for as little as $2USD per hour, or for $7USD for the whole day.
Pros: No influx of tourists. Lovely fishing village.
Cons: The coral sea bottom can be hard for when you fall.
Best place/Area to stay: Tharurashami Holiday resort is a brilliant resort it offers hot meals as well as rooms with luxury garden views, this us a great family-friendly resort which won't break the bank. If you want to stay closer to the Beach there are many affordable places close by.
Thulusdhoo, Maldives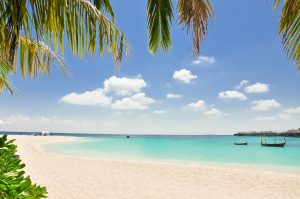 The island of Thulusdhoo in the Maldives is known for some of the best waves of the local area of Cokes. Unfortunately, this is not a great spot to hear over to if you're a beginner sue to its shallow reef and hard breaking waves.
On the other had Advanced and expert intermediate surfers will love it here. Across the water, you'll find the area of chickens. This area is certainly a lot friendlier then cokes, however, don't be fooled when the waves come in they can be a lot more than you bargained for.
Recommended for: Intermediate to advanced surfers Only
Best time to surf: Between February to November ( However the best waves can be found between  March to May and September to November)
Average wave height: Head hight.
Cost: Can be quite costly $35USD for board hire.
Pros: An experience like no other for advanced Surfs
Cons: Not one of the cheapest destination in Asia
Best place/Area to stay: Our recommendation would be the  Season Paradise if your looking or luxury accommodation or Palm Lodge for a more budget stay.
Kovalam, India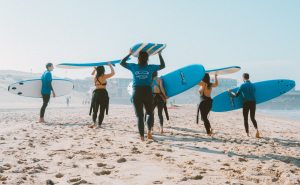 Kovalam is located in the south of India in the state of Kerala. It's known to be one of the best beaches in the country. There's an artificial reef by the lighthouse which is great for advance surfers and if your lucky the waves can be as high as 5ft+.
The great thing about surfing in India is that the locals are super friendly and chilled. They welcome they are extremely inviting to foreigners. The accommodation can start from as little as $7USD a night as close as 1min away from the beach. The cuisine in India is also really tasty be sure to try some out.
Recommended for: beginners lighthouse reef for advanced surfers
Best time to surf: Between December to February
Average wave height: 2-3 ft (.6-1 m)
Pros: Accommodation available close to the beach and affordable
Cost: $2-$6 USD to rent a board and $14 USD for a lesson with the Kovalam Surf Club
Cons: The water quality is not always the best especially after heavy rain, it's a very popular tourist town but not very crowded in the water months.
Best place/Area to stay: The little Elephant Resort is great as it's near both the lighthouse beach and Kovalam beach. You can stay here for as little as $9 USD per night for 2 guests!.
These are a few of the destinations we recommend when surfing in Asian however there are many more beautiful beaches you can try out. There are just a few more tips we have for you to consider before you travel.
Bargain: In many areas, there will be a number of Instructors and Board hire kiosks/shops. If you feel you're being charged a bit too much you'll have the opportunity to shop around. However, bear in mind theirs always room to bargain.
Hire an Instructor: If you're a beginner it's wise to hire an instructor. It may be a lot safer as its hard to predict the current. There's also the safety aspect for instance if accidents were to occur there's someone there for you.
Pack suitable swimwear: Its best to wear a wet suit or even Rashguard to avoid those cuts you may get from rocky sea bottoms. It will also shield you from getting sunburnt.
Use correct Sunscreen: You'll need a water-resistant suncream or even 'surfer sunscreen' yep that's right it exists.
Enjoyed the best surfing spots in Asia?
Feel like a surfing holiday will be your next holiday? know Friends or Family members who are keen surfers? why not show them our post on best surfing spots in Asia. Fancied learning how to surf but feel it may not be for you? check out our top 10 trending destinations to inspire your next holiday click here.