Gems in Berlin You Won't Find in a Guidebook
Berlin is a great place to visit. This European city is full must-see sights and gripping history your part of each moment. The social culture of this city brings all the residents and tourists to the street. During every sunrise to sunset. During my visit to Berlin, I spent my weekend cycling around this beautiful city. This gave me a great opportunity to take in the real beauty of Berlin. During my 48hrs in Berlin, we came across a number of gems in Berlin you won't find in a guidebook. In this article, we will be sharing these with you.
Markthalle Neun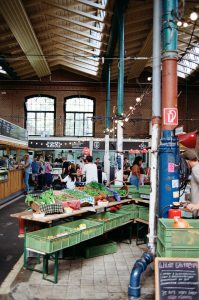 Berlin has been known for its markets for centuries. Unfortunately out of the fourteen well-known markets, only three have survived. Opened in 1891 Markthalle Neun is one of the most historic markets in the Kreuzberg district. This beautiful market was revived as a farmer market in late 2011.  In addition, This market is a must for foodies as it boosts all locally sourced affordable foods.
You can enjoy a traditional German breakfast at the "Breakfast Market" which is held every third Sunday of the month. If you have a more adventurous palate you can try some culinary delicacies every Thursday at "Street Food Thursdays." Every 3 months the market enables you to indulge in a sweet treat paradise at the 'Naschmarkt."
Enjoy the views from Viktoriapark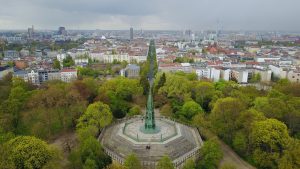 There are very few spots available in Berlin where you can enjoy a view of the city. Many tourist tend to line up in queues to climb the Fernsehturm or the Reichstagskuppel. Moreover, in my experience of the city instead of lining up, I suggest you head over to Viktoriapark. Furthermore, this hidden gem provides a generous grassy space ideal for picnics and enjoying the sunset at the highest point in Berlin. Furthermore, there are many other features in this picturesque park such as lying on the small beach or having a bite to eat at Stadtbad
Explore the historic Hackesche Höfe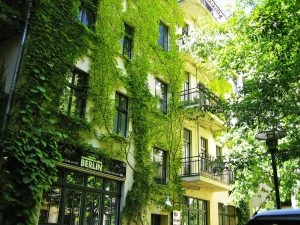 A small stone throw away from the busy streets of Berlin you'll find the eight beautifully reinstated courtyards. In addition, there are many things to do here such as having coffee at many of the idyllic cafes, strolling through the interlinked courtyards and even taking part in some retail therapy at the little boutiques dotted around. Be sure to catch a show at the main attraction Chamäleon Theatre. The closest Tube station to the courtyards is S-Bahnhof Hackescher Markt.
Address, Opening hours, prices
Where: Rosenthaler Straße 40/41, 10178 Berlin-Mitte
Prices: From 39,00 Euro to 61,00 Euro depending on seating choice.
Opening Hours: Monday: 12 pm – 6 pm, Tue–Fri:12 pm – 8 pm, Sat:12 pm – 9.30 pm and  Sun: 12 pm 6 pm
Escape to Halensee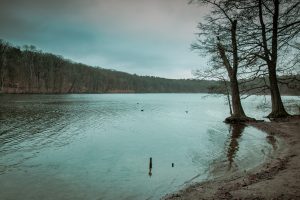 When you're in Berlin it's great to visit one of the 70 lakes dotted around the city. Located of Ku'damm Halensee lake is near the city centre. Once you arrive head over to Stadtbad Halensee where you can grab a bite to eat at the beautiful restaurant or sunbath near the crystal clear water. Additionally, Entrance is 8 Euros per person for the day allowing you to relax Endlessly.
Address, Opening hours, prices
Where: Koenigsallee 5a-b, 14193 Berlin – Grunewald
Prices: From 8,00 Euro
Opening Hours:

Beach Bar

Daily:

09:00 am – 10:00 pm

Restaurant:

Wed to Sun:

05:00 pm-midnight
In the winter months, you can visit Stadtbad Neukölln another hidden gem in Berlin. As well as two swimming pools and spa facilities this historical Bathhouse is a great day out for families and adults. The closest tube station to the lake is S-Bahnhof Halensee.
Address, Opening hours, prices
Where: Ganghoferstraße 3, 12043 Berlin
Prices: From 3.50 Euros for swimming prices vary for spa facilities.
Opening Hours: Monday:

10:00 am – 08:00 pm

Tuesday+Thursday:02:00 pm – 10:30 pm Wednesday: 11:00 am – 04:00 pm Friday:

01:00 pm – 04:00 pm Sat:10:00 am – 12:00 pm,           04:00 pm – 10:30 pm, Sun: 0:00 am – 12:00 pm, 04:00 pm – 07:00 pm
Check out the Stadtbad Neukölln website for activities such as swimming fun and games and many more.
Freiluftkino Kreuzberg & Kunstquartier Bethanien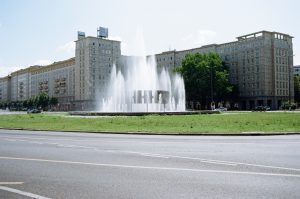 Kunstquartier Bethanien used to be a hospital and has now been converted into a museum. It boasts many galleries and art studios. If your in Berlin from May to September we recommend the open-air cinema. Located in the Kunstquartier Courtyard this was one of my favourite cinema experiences. Also loved my locals this open-air cinema screens a number of movies. These range from Hollywood movies, old classics and German favourites. Not up to scratch with your German? many of the films are in English or have English subtitles.
Address, Opening hours, prices
Where: Mariannenpl. 2, 10997 Berlin
Prices: 7,50 Euro, 5 tickets 30 Euro, 10 tickets 55 Euro
Season: from 5 May to 10 September
Flea market and Karaoke at the Mauerpark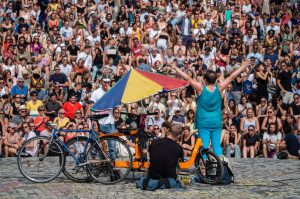 The flea market at Maurerpark is held every Sunday and is located where the Berlin wall used to be. This Flea market is great to look for hidden treasures. At the market, you'll find retro brands locally designed clothes, Period vinyl and other novelty items. Additionally located next to many delicious food stalls and beer gardens you can relax and take in the atmosphere.
In the afternoon head over to the parks main attraction the bearpit karaoke. As a result, millions of people gather to see a variety of people sing in front of the crowds. Furthermore, the event runs between 2 pm-3 pm every Sunday Afternoon. Fany a sing or want to overcome your fears of singing in front of a crowd? when Joe the host asks who want to sing next be sure to raise your hand. The closest tube station is Gesundbrunnen.
Oberbaumbrücke
Located in East Belin close to the S-Bahnhof Warschauer Straße Oberbaumbrücke is a unique bridge worth seeing. The bridge connects the east to the west of Belin and is a symbol of Berlins unity. In addition, it offers great views of the Badeschiff and the Molecule Man (a giant aluminium sculpture) and Fernsehturm. Transitioning into the night you'll find two of Berlins most famous night clubs Watergate and Berghain close by.
Take a stroll along the Spree-Ufer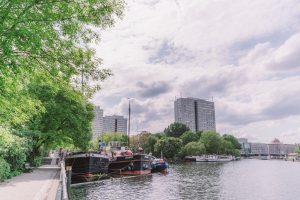 Strolling down the S-Bahnhof Bellevue towards the Spree is very relaxing. Alongside the Spree, you'll be able to take a leisurely stroll by the riverside towards EastBelin. Along the way, you'll come across some of Berlins iconic sights. There's no better way to start off than to visit the Belin President at the Schloss Bellevue. Another great stop would be one of Berlins beaches located opposite the Berlin Hauptbahnhof train station. Continue on your journey along the Spree and stop off at Reichstag, the Monbijou Park and the famous Museum Island ( an island with five museums very popular so, not one of the hidden gems but really worth going to have a peak).you can then stop at the world-renowned Berliner Dom and continue towards the Nikolaiviertel.
The next stop I would suggest is the "old Berlin" this was the first residential area built in this capital dating back to around 1200BC. In old Berlin, you can walk along a number of medieval lanes and visit Nikolaikirche, the Gründungsbrunnen, the Ephraim-Palais and Knoblauchhaus. This journey will give you the opportunity to really remember your time in Berlin.
Remember to have your camera or phone battery charged before staring this picturesque Journey.
Spandauer Zitadelle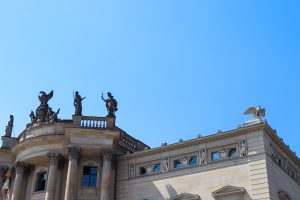 This well taken care of fortress was built in 1197 to protect the town of Spandau. Spandauer Zitadelle is located between the Havel and Spree River. One of the main reasons to visit the citadel is for the bats. The vaults in the fortress house are home to over 10,000 bats. If you take a Bat tour you can observe and even feed them. The citadel hosts a museum and many outdoor events. My favourite events is the yearly Citadel Music festival during May and the medieval festival "Easter Knight Spectacular".
Spreepark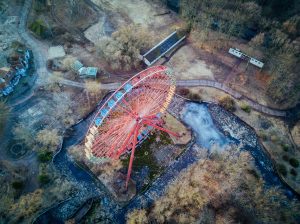 If you like exploring weird and wonderful things then this park is for you. The Spreepark is an old amusement park where events such as lifelike Tudor and wild west villages and even life-size dinosaur statues. Although the park has been closed to the public since 2001 you can still book some guided tours during the weekends. If your unable to book tours don't worry many locals and tourist have managed to explore the ruins on their own- illegally!. This attraction bring Berlins history to life in strange and surreal ways and is definitely worth taking the risk for. This is definitely one of the gems in Berlin you won't Find in a guidebook.
Bonus tip for the winter: If you choose to visit Berlin in the winter the best time would be Christmas. You must visit one of the Christmas markets. Moreover, my favourite market would be the market in historical Schloss Charlottenburg. This is one of the most traditional markets in Berlin. The idyllic setting of this market enables you to enjoy "Glühwein", "Bratwurst" and "Reibekuchen".

Enjoyed our blog on gems in Berlin You won't find in a guidebook? thinking of future trip ideas? check out our blog on the ultimate travel bucket list.